UTP/STP kabelstrippers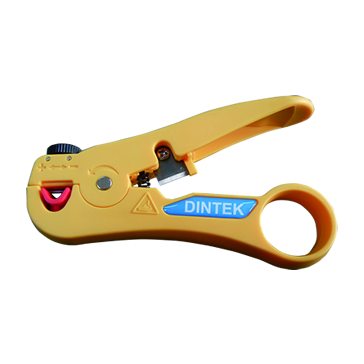 Product number: N6101-05002
Kabels strippen met groots gemak
DINTEK UTP/STP kabelstrippers zijn een goede toevoeging aan het huidige assortiment kwaliteitsgereedschappen.
Het voorbereiden van twisted pair bekabeling is nog nooit zo eenvoudig geweest. DINTEK's professionele twisted pair kabelstrippers zijn klein genoeg om in uw broekzak mee te nemen en bieden de professionele kwaliteit die u wilt bij het gereedmaken van uw bekabeling.
De kabelstripper is voorzien van een verstelbaar snijblad en schaar voor al uw UTP/STP telefonie- en databekabeling en overige flexibele kabels. Door een draaiende beweging met één vinger stript u eenvoudig iedere kabel. Doordat het snijblad verstelbaar is, kunt u elke gewenste kabel strippen zonder de binnendraad of mantel hiervan te beschadigen.
Physical Structure
Professional all-in-one cutter/stripper for twisted pair and coaxial cables
Cuts and strips multiple cable types: Twisted Pair (UTP/STP): CAT6A, CAT6, CAT5e and Coax: RG6, RG59
Easy-to-use combination cutter/stripper
Adjustable stripping blade for UTP/STP accommodates different insulation thicknesses without damaging conductors
Contoured finger grips for cutting power
Ensures damage-free stripping.
Use with twisted-pair wire tightly wrapped stranded cables.
Applications
Premise wiring
Cable assemblies
Cable repair