CAT6 RJ45 plug 23-26AWG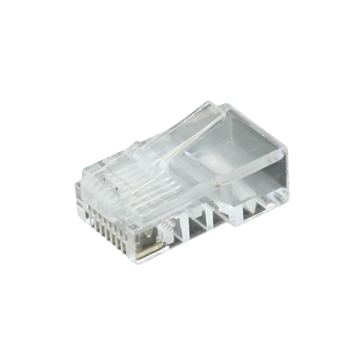 Product number: N1501-88038
PowerMAX™ : Gigabit High Speed Ethernet
RJ45 plug voor geïsoleerde koperdraden met een dikte van 23-26AWG. De plug bestaat uit een geheel, geleiding voor de aderparen is geïntegreerd in de plug.
Applications
10 Base-T (IEEE 802.3)
Fast Ethernet (IEEE 802.3u)
100Vg-AnyLAN (IEEE 802-12)
Token Ring (IEEE 802.5)
TP-PMD (ANSI X 3T9.5)
100 Mbps CDDI
ATM 155
Gigabit 1000 Mbps (802.3z)
Standards
ELTA Verified
ISO/IEC11801 2nd edition
ANSI/TIA/EIA Cabling Standard 568-C.2
CENELEC EN 50173
RoHS-6 Compliant
Mechanical Characteristics
Housing: Polycarbonate
Contact material: Phosphor bronze alloy
Contact plating: 50 micro-inch gold plating over nickel plating
Cable-to-Plug tensile Round & Flat cable available
Strength: 20lbs min between the cable and plug.
Durability: 750 cycles minimum.
Operating temperature : -20°C to +75°C
Electrical Characteristics
Dielectric withstanding voltage: 1000VAC (RMS)
Contact resistance: 10 milliOhms max.
Current rating: 30 VAC at 1.5 AMPS
Insulation resistance: 500 Megohms min.