CAT6 shielded RJ45 plug 23-26AWG, 2 piece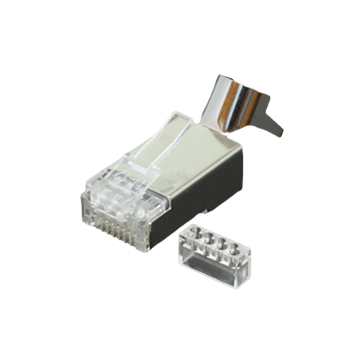 Product number: N1501-88046
PowerMAX™ CAT6 FTP Solid RJ45 Plug - 2 stuks
RJ45 plug voor geïsoleerde massieve koperdraden met een dikte van 23-26AWG. De plug wordt geleverd inclusief een geleider waarin de kabels op hun plaats worden gehouden als deze in de plug worden geplaatst.
Applications
Voice; T1; ISDN 100BASE-T Ethernet (IEEE802.3)
155/622Mbps 1.2/2.4 Gbps ATM
1000Mbps Gigabit Ethernet
550MHz Broadband Video
Power Over Ethernet
Standards
All Category 5e Requirements as Per ANSI/TIA, ISO/IEC, and CENELEC EN
ANSITIA-586-B.2
ANSI/TIA-568-C.2 Cat.5e
ISO/IEC 2nd Edition 11801 Class D
CENELEC EN 50173-1
IEC 61156-5, CENELEC EN 50288-3-1 for horizontal cable
Flame Retardancy is Verified According to IEC 60332-1-2
IEEE 802.3af-2003 , 802.3at-2009, IEEE 802.3bt
Mechanical Characteristics
Cable-to-Plug tensil Round & Flat cable available
Strength: 20lbs min between the cable and plug.
Durability: 750 cycles minimum.
Operating temperature : -20°C to +75°C
Physical Characteristics
Housing: Polycarbonate
Contact material: Phosphor bronze alloy
Contact plating: 50 micro-inch gold plating over nickel plating
Electrical Characteristics
Dielectric with standing voltage: 1000VAC (RMS)
Contact resistance: 10 milliOhms max.
Current rating: 30 VAC at 1.5 AMPS
Insulation resistance: 500 Megaohms min.